Scottish Marriage and Family History Research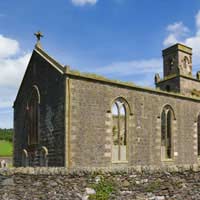 Researching marriages to trace your family history in Scotland is very similar to tracing those in England or Wales. But it's a game of two halves. After 1855 with compulsory registration, tracing marriages is quite easy, with all records in the General Register Office. Prior to that, you're relying on church records, which can present problems, as not all marriages were in church (or even at the church door, the most common place to marry).
Scottish Marriage Records Post 1855
From the beginning of 1855, all Scottish marriages had to be registered, just like those in England and Wales. The Scot's marriage certificates offer a wealth of information that will help you with your family history research, including not only the complete names of both parties, their birthplaces, ages, occupations and residences, but also the names of parents (including the maiden names of the mothers), father's occupation, and how many prior marriages each spouse had had, as well as the number of children (previous marriage details and birthplace were quickly dropped). If you find the notation "RCE" by an indexed entry, this stands for Register of Corrected Entries, a separate volume showing where an entry had to be changed for some reason. You can search the records online at
Scotlands People
, although they currently only go up to 1931 for legal reasons. You will, however, have to pay for copies of certificates.
Scottish Marriage Records Before 1855
Before 1855 you're in the hands of church records. These can also be useful for family history information and those of the Church of Scotland, the old parochial registers, can be found online at www.gro-scotland.gov.uk, with other denominations at the
National Archives.
The problem is that with the registers you'll get either the date of the marriage itself or the reading of the banns, but you'll have no idea which it is, as it won't be noted. However, they will give the names of the parties and the father of the bride.Additionally, there were many marriages that simply never entered the record books at all, because they were deemed "irregular." Scottish law recognised these; they could be as simple as an exchange of vows anywhere (witnesses didn't even have to be present) or what we call common-law – simply living together. If your ancestors engaged in this, then you'll be out of luck on finding any written documentation.
Handfasting in Scotland: A kind of Trial Marriage
There's a myth surrounding the idea of handfasting, namely that it was a kind of trial marriage, supposedly lasting for a year and a day. If, after that time, the couple had no children and wanted to go their separate ways, the handfasted marriage just became null and void.
However, according to several researchers, this simply wasn't true. Instead, handfasting was probably the equivalent of an engagement, signifying a betrothal, an intent to marry, not an actual marriage itself.
You can find records of handfasting as a betrothal into the 17th century and beyond. By the end of the 18th century the term was no longer used for betrothals. It should also be noted that if a handfasted couple had sex, they then automatically became married.
The fact that Scotland has done such a thorough job of computerising its indexes (and you can also find many of them at the International Genealogical Index means that searching is easy, even from home.
You might also like...