Irish Emigration Records And Genealogy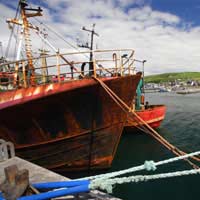 It might not really be the case, but it often seems that no race is as well travelled as the Irish. Almost everywhere in the world you'll find people with Irish roots, whose ancestors undertook emigration their home for a number of different reasons - either to make a better life because of the Famine, or forced from the land. Wherever they went, they travelled by ship - be it as free people or convicts - and you can find many genealogy records of your ancestor's journey.
Irish Emigration To North America And Genealogy Records
Thousands upon thousands of Irish flocked to America both during the famine years of the 1840s and after, and you should be able to locate your ancestors among the emigration passenger lists when researching your family tree.
Before 1820, very few passenger lists were kept. However, from that point it became the duty of the ship's captain to ensure that "Customs Passenger Lists" were filled out and filed with Customs at the port. Thankfully, most of the lists have survived and you can find them in the U.S. National Archives, or from Family Search, an important family history tool to anyone involved in genealogy. Although many are indexed, you'll find that large periods of New York and Boston arrivals have no index. In 1891, Custom Passenger Lists were replaced by Immigration Passenger Lists. You can also find these records on CD-ROM, or for payment from ancestry.com or genealogy.com.
Are these records worth investigating? Unequivocally, yes. Apart from the basic personal details, including emigration information such as place of origin (you might find county or even town shown), you'll learn your ancestor's exact date of arrival, where he was planning to go in the U.S. and whether other family members had come with him. That's a very reasonable investment of time to anyone in genealogy.
If your ancestors arrived in New York from Ireland after 1892, they'll probably have entered the country through Ellis Island. You can search those records for free on the Ellis Island website, and they can increase your knowledge of family history.
Some Irish emigrants went to Canada, and a useful resource for passenger lists and ship arrivals there is Immigrants to Canada.
Emigration From Ireland To Australia and New Zealand
The State Records Office of New South Wales has indexes of assisted immigrants from 1839-96, may of whom came from Ireland. Graham Jaunay's site, which links to many, many passenger lists for vessels arriving in Australia and New Zealand, is an invaluable family tree resource at
AUNZ Passenger Lists
.
Of course, many Irish were also sent down under (and some also to the West Indies) as transported criminals, beginning in 1791. The Irish National Archives has an extensive genealogy database of information where you can find your Irish ancestors. Unfortunately, records from 1791-1836 were destroyed in a fire. If your ancestor was transported in that time, your only chance of tracing him in Ireland is if he was the subject of a convict petition.
Genealogy Information On Irish Emigrants To England
Although thousands of people came to England from in the 19th and early 20th centuries, many becoming navvies or factory workers, there are no passenger lists or similar genealogy sources. Instead, you'll have to take up the family history trail with vital records of birth, marriage and death and census returns. You can find these in the Public Record Office.
You might also like...