Maiden Names in Genealogy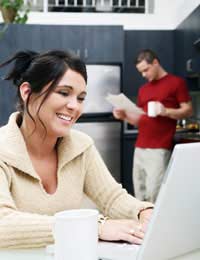 Most of us know our mother's maiden name. It's one of those little items that's in our consciousness, and often used as a security question for passwords on websites. But what about your grandmother's maiden name, or your great-grandmother's? How important is it to know them, and how do you find them?
The maiden name is the surname the woman had before marriage, her family name. Knowing it tells you where she came from, and allows you to research her family, opening up another branch of the family tree. Going back through history it can give a real identity to a woman who might only have cropped up as the wife of someone in the family tree.
Maiden Name Sources
There are several ways to discover the maiden name of a female ancestor. The most obvious is the marriage record. It will be on all marriage certificates after 1837, and further back even in church records, where it will also be recorded in the banns.
Death records can prove very helpful for finding maiden names in some instances. If your female ancestor died after the advent of death certificates, then her maiden name might be listed. This isn't always the case, however. If she was long lived, her descendants might not have known it, for example. But always check the death certificate for that and other information that can help in assembling a family history.
Court and land records can be a good resource to find a maiden name. Women have owned land for centuries in their own names. Through various legal records, you might well find the woman named not only as the wife of someone, but also as the daughter of someone, which will give you her maiden name. These legal records also include wills and probate records, where a woman might be mentioned by both married and maiden name.
Family names can offer a clue as to maiden names. It was relatively common for a child to have his mother's maiden name as a middle name as a way of keeping that family name alive. If your researches turn up an unusual middle name, it could well be the mother's maiden name.
Divorce records can be helpful, too. It's worth noting that until the 1970s divorce was relatively rare, mostly because of the legal conditions necessary to obtain a divorce. They did happen, though, and if there's one in the family tree, it might well list the woman by her maiden name.
Maiden Names on a Family Tree
When you compile a family tree, the woman's maiden name, rather than her married name, is listed. If the maiden name isn't known, then the convention would be to show the Christian names followed by empty brackets, for instance Mary Jane (). Some genealogists will include the husband's surname after the maiden name (or the empty brackets).
If a woman has had multiple husbands, then her name would show the names of those husbands after her maiden name, with the most recent husband shown last – for instance, Mary Jane (Jones) Smith BROWN.
Scotland
Although women in England and Wales have taken their husband's surname for centuries, this isn't the case in Scotland. Until the 20th century, a married woman kept her maiden name as her last name.
You might also like...
Susan - Your Question:
May I claim or utilize my grandmother's maiden name who is my father's mother?
---
Our Response:
It depends on how you wish to 'claim' or 'utilise' it. You can use it informally. However, if you wish to change your name, please see the; 'change your name by deed poll' link
here
. I hope this helps.
ExploreGenealogy
- 4-Sep-15 @ 10:20 AM
May I claim or utilize my grandmother's maiden name who is my father's mother?
Susan
- 3-Sep-15 @ 5:19 AM