How To Use And Find Native American Genealogy Records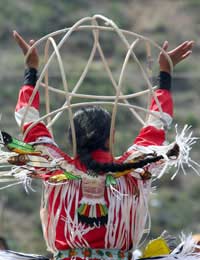 Researching Native American records presents its own, unique challenges in genealogy. Given that there are a limited amount of records, the chances are that you won't be able to find all you want relating to your family history. More than that, unless you're actually from a tribe, you're dealing with a completely different culture, with its own traditions, customs and systems of ancestors, so you'll first need to become familiar with those in order to understand all the different familial relationships and create a family tree. That alone can seem daunting, but don't be deterred; there are genealogy records out there.
Genealogy Records In The National Archives
In the
National Archives
, you can find Native Americans listed in censuses going back to 1860, which can ease your genealogy search a little. Although "Indian" wasn't actually included as a choice for ethnicity in that census, recorders still noted more than 40,000 Indians. The exception was those who were classed as "Indians not taxed," meaning Native Americans living on reservations or in areas that hadn't yet been settled. As an interesting aside, you can see Indians of mixed race noted in the census returns; in the column for colour as they were marked as "HB," or half-breed - a useful little genealogy tip.
The Archives also houses the records of the Bureau of Indian Affairs. However, those in the main Washington building will be of little interest to family history. What you need are the records of Indian agents and school superintendents. They're the ones who dealt directly with the people, and you'll usually find those still held by the BIA, or in the regional offices of the Archives. The Fort Worth Branch of the National Archives, for example, has records from seven different Oklahoma agencies which contain information on upwards than fifty tribes, an important family history resource. If you need a list of the different field branches and the geographical areas they serve, you can find it at the Archives' site.
The records kept weren't complete, or even necessarily extensive, and an Indian agent only kept track of those who lived with the tribe. Most of the time, the dealings between agent and tribe involved money, land, or inheritance. This means that, at best, you're only going to learn a limited amount to put in your family tree, but with the paucity of Native American records, even that little is a huge advance on nothing.
Native American Military Records And Genealogy
A number of Indians fought with federal troops during the 19th century, which made them eligible to receive either bounty lands or various veterans' benefits, including pensions. If you're tracing a Native person who was involved with the Army, check the military records in the National Archives as part of your genealogy search into your ancestors. They keep alphabetical files on all Indians who served before 1870.
Native American Genealogy Records In Oklahoma
If you're researching a family tree on someone from the Cherokee, Creek, Seminole, Choctaw or Chicksaw tribes - known as the Five Civilised Tribes - then you should consult the Oklahoma Historical Society. They possess one of the best collections of tribal records, excellent for genealogy as well as printed census rolls. But their family history material extends well beyond the Civilised Tribes. You can also find important genealogy information on members of the many Native American tribes (65 in total) who ended up in the state. Sadly, there's no single index to all the material, so you'll need to do a fair bit of digging. Even then, as the records aren't comprehensive, there's no guarantee you'll find anything useful, but it's probably your best shot.
You might also like...