Scottish Death Records and Family History Research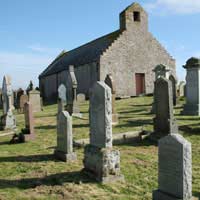 Just like birth and marriage records there's a divide in the history of recording deaths in Scotland, and it comes in 1855, when compulsory registration of deaths came into effect. Before that it was carried out by the Church of Scotland in its parishes. Obviously, as with other things, centralising the records made things easier, and for genealogists, post-1855 records are a breeze to access.
Scottish Death Records Post-1855
When they began compulsory registration, the Scots were very thorough in the information they put on the death certificates, which is a boon for any family historian. You can access the index at
Scotland's People
. The index itself doesn't contain all the certificate information, but from there you can get a copy of the certificate (records run to 50 years ago, and are updated year by year).
So what's on the Scottish death certificate? It's an extensive list. There are the standard statistics, such as the name, age and sex of the deceased, and place, date and time of death. But you also find his occupation, cause of death (including how long the last illness lasted and the name of the doctor), residence, where he was born, his spouse's name, his parents' names and occupations (also whether they were alive or dead), and finally the names of any children and, if they'd died, when. For the first five years after 1855, the certificate even listed the place of burial. With a couple of exceptions, all those remained on the certificates.
Obviously, for a genealogist, that's a goldmine, connecting you not only to the succeeding generation, but also to the preceding generation.
There are a few things to watch out for. "RCE" on the index means you'll need to refer to the Register of Corrected Entries (which isn't available online). There are also some other registers that list deaths of Scots, and Scots-related people. War Returns, Service Returns, the Marine Register, the Air Register and Foreign Returns are also available to consult on www.scotlandspeople.gov.uk.
Scottish Death Records Before 1855
The parish registers, or old parochial registers as they're called, are the source for death records before 1855. However, it's debatable how complete they are – each entry, be it for death, marriage or birth, cost 3d to register (with a fine up to £5 for refusal to pay), which meant that many events went unregistered; it's rumoured that complete parishes stopped registering events.
If you go to the General Register Office site you can get the complete list of registers, although you should be aware that not all have survived. That lists the records for Church of Scotland parishes.The problem with the parochial records is that the information in them is very limited. Beyond the name and the date of the burial (or of death), you'll find very little. But they're good for at least establishing that information, as well as letting you know where your ancestor lived and died.
Before 1855 records are far from perfect, but between death, birth and marriage records in the registers you should be able to build a picture of your ancestors.
You might also like...