Ireland Vital Records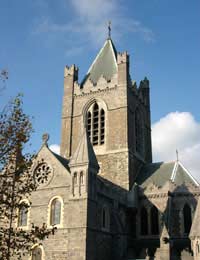 A person's vital records show the landmark events in life - birth, marriage and death. Whether you're searching for ancestors in Ireland or Northern Ireland, there's a wealth of records available.
Civil Records
From 1864 onwards, you can find records of birth, marriage and death in the General Register Office in Dublin (records of non-Catholic marriages actually begin almost 20 years earlier, in 1845). There are also copies in Belfast General Register Office, which also has the original Northern Ireland records after 1922. Thankfully, these are all fully-indexed and easily searchable, but you should be aware that you'll have to pay for copies of certificates. You can also visit the LDS Family History Centres; Irish civil records there can be viewed free of charge.
Up to 1877, both birth and marriage records are in annual indexes. From 1878, they become quarterly. Whilst you won't find the date of birth in the index, you will see the registration district, as well as the volume and page on which you can find the record. So if you know the registration district or even the county where someone was born, with a little digging you should be able to locate the birth certificate. Death records are indexed by surname and include the first name and age.
Birth certificates list the child's name and sex, along with the place and date of birth. You'll also see the names of both parents (including the mother's maiden name), as well as their address and the father's occupation - all grist to the mill for any family historian.
Marriage certificates aren't quite as fruitful, but you'll still learn the names of the bride and groom (including the bride's maiden name), their ages, occupations and where they lived, as well as the names of both their fathers.
Death records give the name and age of the deceased, occupation and marital status. Additionally, you'll discover where and when he died and how long he'd been ill.
Church Registers
Before civil registration, it was the church that kept all the details of baptism, marriage and burial, so parish registers become extremely important in your search. You'll be able to find most Catholic parish registers (some date back as far as the mid-18th century) at the National Library of Ireland - copies for parishes in what's now Northern Ireland are in the Public Record Office of Northern Ireland. You might need to brush up on your Latin though, as that was used until about the mid-19th century in Catholic registers. However, just because the registers are there doesn't mean you can automatically view them; you'll need permission from the church to see the registers from the Dioceses of Cloyne, Kerry and Limerick and frustratingly, no one is given access to the registers from the Diocese of Cashel. If you can't search a register at the National Library, it might be worth trying to commission a search by the parish priest.
Many of the registers of the Protestant Church of Ireland were destroyed in a 1922 fire. Copies of those that survived can be found either in the Public Record Office of Northern Ireland or the Irish National Archives.
The oldest parish registers are those of the Church of Ireland, some of which go back as far as the mid-17th century. However, the old handwriting makes them difficult to read, so you might need patience or specialised help to understand them.
You might also like...
hi would like to find my grandmother emily francis dodd . emily was born in rathbone 1923 and died in rathbone in 1955 as emily willmore at the age 30/32. very young. but need to know for medical problems i may have as i need to know the possible links. she did have a daughter who was adopted in warwickshire around 1945. then mum had me. this is a sensitive subject but could do with help and advice . thank you
Hi, My partner is looking for his father. His fathers name is Michael Sherlock, but we're not sure of the spelling as there are many ways to spell Sherlock. My partner was told that his father might have moved to Australia. We don't know when exactly. All we know is that it would have been between 1969 and 2010. I'm trying to find him on the birth records, immigration records and the census records, but I can't seem to be able to get in to find them. Michael Sherlock was born in Ireland in 1947 (give or take a year) and we know he was in England in 1968 & 1969. Can you please help me, or point me in the right direction. Regards Filomena Montesanti
Mena
- 3-Apr-13 @ 1:16 AM
How do I trace. My Uncle who died in Portadown in-between 1983 and 2006
Petdragon
- 15-Oct-12 @ 4:48 PM
In Ireland, rather than Northern Ireland, the vast majority of the population was Catholic (really, only the English who lived there were Protestant) so that church records are more valuable than you might imagine, since virtually everyone attended church regularly and was baptised. It's more problematic is very rural areas where people might rarely see a priest, and those priests themselves might have been illiterate. But more urban dwellers can be found with relative ease.
Kate
- 30-Jun-12 @ 9:43 AM