Cremation Records and Tracing Your Family History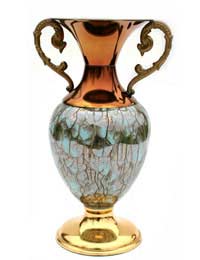 To those familiar with the idea of Vikings having funeral pyres for their dead, or the practice in India, it might come as a shock to learn that the first crematorium in England didn't open until 1885 (it was in Woking). What spurred it was an 1884 trial, following the cremation of a Welshman by his father. He was tried for it and acquitted; because there was actually no law stating that cremation was illegal (actually the Cremation Society had already been running for 10 years at this point).
By the end of the 19th century, there were three crematoria in England, although that figure quickly rose, and since the late Sixties more than half the people dying in England and Wales have been cremated.
The ashes are the property of the family, who can dispose of them as they wish - which can be anything from scattering in the country to being kept at home in an urn. It was only in 1944 that the Anglican Church allowed ashes to be buried in a churchyard (although the 1902 Cremation Act gave clergymen the right to refuse a funeral service for those being cremated unless the ashes were to be buried in consecrated ground). In that case it was entered in the church burial register. There have even been rare instances of ashes being scattered on football pitches, although clubs don't publicise this.
Cremation Records and Burial Register
The cremation records give the same information as a burial register. Permission to cremate has to be given by a medical authority attached to the crematorium (some crematoria are private, others under the control of the local authority).
However, you're not going to be able to see those records. Because they might contain information about people still alive, access is restricted to those appointed by the Home Secretary, the Environment Minister or the top police officer. That said, you can still get the information: it will simply be provided orally, at the discretion of the registrar of the crematorium, although it will be probably only be given in the case of records old enough that confidentiality isn't a factor.
Obituaries and Death Notices
Given that you might not be able to obtain cremation records, then another route to your answers is through obituaries. They may not be as common now as they once were, but they still exist for people of note at local, regional, and national levels, and death notices can still be widely found.
Obituaries have appeared in print for the best part of 300 years (the oldest are from The Times and The Gentleman's Magazine). In some cases they can prove to be the only surviving notice of burial or cremation, at least that you can access. However, it wasn't until the latter part of the 19th century that death notices became very common. Check with a central library close to where your ancestor lived to determine the local paper of the period, and to discover where you can browse old copies. A death notice will probably include time and place of death and interment or cremation, as well as naming survivors. If there's an obituary, it's an excellent way to learn much more about your ancestor - their civic and family lives. If you know the year of death (or an even closer range), then you should be able to find an obituary (if it exists) without too much trouble. If your ancestor was in a specific trade (a butcher, for example) you might try old trade journals, and parish magazines sometimes also carry obituaries of ardent parishioners.
You might also like...
I am trying to find out where has my friends aunt Adelinda Diaz McMullenwas cremated and who was her funeral director
Marica
- 16-Aug-23 @ 8:53 AM
CAN SOMEONE PLEASE HELP ME WITH TRYING TO FIND OUT WHERE MY FATHER WAS CREMATED/BURIED IN KENT UK. I FOUND OUT FROM KCC REGISTER OFFICE THAT MY DAD PASSED AWAY. HOW DO I FIND OUT WHO ARRANGED MY FATHER'S FUNERAL. I HAVE JUST BEEN DIAGNOSED WITH BREAST CANCER FOR THE SECOND TIME AND I WANT TO SAY GOODBYE. I LOST TOUCH WITH MY DAD, HE SAID TO MY MUM THAT WE DIDN'T FIT INTO HIS LIFE ANYMORE WHEN I WAS 21. MY SISTER HAS DOWNS SYNDROME. WE FELT REJECTED. HE MET SOMEONE WHO DID NOT WANT ANYTHING TO DO WITH MY SISTER. I HAVE SUFFERED EMOTIONALLY SINCE THE REJECTION. I JUST WANTED TO BE ABLE TO SIT WITH HIM AND CHAT. IN CASE I DON'T MAKE IT THROUGH CANCER TREATMENT. WOULD YOU PLEASE INFORM ME OF HOW I FIND THE BURIAL GROUND OR CREMATORIUM, SO I CAN JUST SIT AND GET SOME CLOSURE. EMOTIONALLY I AM NOT IN A GOOD PLACE, AND REALLY NEED THIS.
Kerry
- 10-Apr-23 @ 7:54 PM
My sister finance was cremation and she stayed up by his bedside at Augusta university for days on out while he was on life support and his daughter came in out of state and decided that they wanted to pulled the plug on him and after seven years of not coming and seeing him and the wonderful life he had they just ignore the fact thay sister matter to where he might be or even the thought of how she might be greivin to how he rest in peace ???
Mimi
- 14-Jul-21 @ 6:18 PM
I am trying to find out where my partners mother was cremated. Patricia Florence Bennett. Cremated 8.3.1967. possibly Dagenham or ladywell....many thanks
Kaz
- 13-Jul-21 @ 6:37 AM
I am trying to find out where my friends mother was cremated. Patricia Florence Bennett. Cremated 8.3.67..possibly Dagenham or ladywell
Kaz
- 13-Jul-21 @ 6:34 AM
my son was cremated the end of oct 1978 at daldowie cemetary in glasgow ... I knew nothing about arrangements as i was mentally incapable to do it ..I do know that his ashes wer scattered there and there was no plate to tell me where he was scattered he was only 3 months old and now i would want to put a plaque were he is could you olz plz help me his name is Gordon oswin thomas henderson he died 23-10-78 thank you
grandma
- 15-Jun-21 @ 10:17 PM
My husband's dad died about 4 years ago no one in his family told him and he has just found out we don't no were he is buried or cremated does anyone no how we can find out please
Help
- 11-Apr-21 @ 12:04 PM
I'm trying to find out about mymum patricia ann saunders died this year in QA hospital inPortsmouth uk in april this yr but I haven't a clue where she was cremated I just want to pay my respects.How do I do this
my brother was cremated in August 1984 with full met police honours.I believe he is laid to rest in Nazing church cemetary can you confirm this?
None that I know of.
- 19-Sep-19 @ 9:42 PM
my late brother P.C Peter Douglas ERswell was cremated st Harlow Crem in August 1984 with full police honours , I believe he was later interred at Nazing Alll Saints but they have no record , can you confirm that he is in Nazing ?
None that I know of.
- 19-Sep-19 @ 9:38 PM
Hi,im trying to find my uncles ashes to lay him to rest,iv tried 3 local cremetoriums but they didnt cremate him please can you help
Jabba
- 15-Jul-19 @ 3:00 PM
my father was cremated summer 1954. we lived in Penarth (Vale of Glamorgan) and died in Brecon (powys ) i would like to know what crematorium was usedbut cannot get hold of this information any ideas of how i might go about this tad?
linds
- 10-Nov-18 @ 7:33 PM
@Wee stitt - sorry to hear this. The church will have a record if she has a head stone. I hope you find it, if it gives you comfort. Mil
My mum passed away when i was about 5 im am now nearly 40 the subject never gets spoke about in front of me. She was creamated and i know where i went once to see if i could find if there was anything in the gatden of remembrance but the place was closed andfound it very difficult i was wondering would there be a record of this basically what can i do if anyone can help or send me in the right direction it would mean alot thank you in advance
Wee stitt
- 30-Jun-17 @ 7:20 PM
I am experiencing similar problems as 'Bambi' Where can I record the disposal of my late wifes' ashes? I DO NOT REQUIRE TICKETS FOR THE TEST MATCHES!!!!!!
Cambus
- 17-Nov-13 @ 9:35 AM
I am experiencing problems trying to enter the disposal of my late wifes' ashes. according to a pamphlet entitled " THE ASHES REGISTER". When I enter the details I constantly receive all the latest cricket news!!!!!!!! Can you please advise?
Bambi
- 31-Aug-13 @ 10:43 AM
Cremation only really became popular in the 20th century - the fact there there were only three crematoria at the end of the 19th century highlights that very well. So when looking back into Victorian times, you should really only check crematoria records as a source of last resort, because the likelihood of finding the names there is small.
David
- 30-May-12 @ 2:09 PM