New Zealand Vessel Arrival Information to Trace Ancestors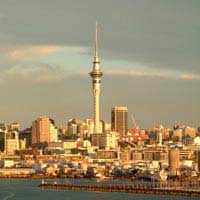 For most of the time since it was settled, immigrants to New Zealand have arrived by ship; there was simply no other way to reach the country. Generally, those vessels came directly from Europe, but there were also ships sailing from Australia, which had already been established as a British colony. Thanks to vessel and passenger list information, you should be able to establish when your ancestors came to New Zealand and where they landed, an anchor point for a family history.
Where to Find New Zealand Vessel Arrival Information
The biggest spur is if you know the name of the vessel in which your ancestors arrived. If you have that, along with the port where they docked, then you can use the
Immigrant Ships to New Zealand
site to discover when they landed. In many cases you'll also be able obtain a passenger list that confirms their arrival.
Unfortunately, though, all too often you're just not going to have those facts. However, there are still ways you can go back to find the information, although it means travelling by the back roads rather than going directly.
Researching Death Certificates to Establish When and Ancestor Arrived in New Zealand
Odd as it might sound, you can actually find help in death certificates. All death certificates after 1875 include a column that indicates not only how long the person had been in New Zealand, but also where they were born. Although you have to bear in mind that this information might not be accurate, it still gives you a starting point for checking shipping records. Calculate the year of arrival from the information on the certificate; begin your search there, and if you don't find results, work outwards in each direction - the ripple effect.
Where Did Your New Zealand Ancestors Settle?
If you're still stumped, then there's a reasonable chance that you can extrapolate the port of arrival from the place where your ancestors settled. All too often, immigrants didn't stray too far from their port of entry, simply making their homes on the first promising piece of land they found. If you know, or can discover, where they settled, it's worth checking the shipping indexes for the ports closest to where they made their home. Granted, it's most certainly not a foolproof method, but still one worth investigating. If you work this alongside the information on the death certificate, your chances of success increase.
Finding Passenger Records for Immigrants to New Zealand
Beyond different web sites, many of which offer plenty of detail, the main reference for passenger lists is the
Archives New Zealand
in Wellington. That's where you can find all the New Zealand Shipping Company passenger lists from 1870 onwards (the year the New Zealand government took control of immigration). The big problem is that they won't photocopy the lists for you. But if you check the indexes, you can find some other passenger lists, and the Archives will answer e-mailed requests. If you're searching for New Zealand Shipping Company passenger list indexes for the years before 1870, those can be found at the
Alexander Turnball Library
in the National Library because government bureaucracy was involved, it's perhaps not surprising that more records of government-assisted passages have survived than those for independent immigrants.
One curious thing you might encounter is a discrepancy between the actual age of a young passenger and that shown in the passenger list. At first this can seem baffling. However, it came about because children under the age of 14 were only charged half the adult fare, while those under seven paid one-third of an adult fare, with infants travelling free. That gave an incentive to parents to save money by lying about the ages of their children, especially as no proof of age was required.
What the Passenger Records Cannot Tell you About your Ancestor
You have to understand that the records aren't infallible, by any means - inaccuracy and illegibility abound. Another factor to take into account if you're having problems finding a particular record is misspellings, which were quite frequent especially on more unusual surnames; the best course is to try variations on the name and see if you come up with something that works in every other way.
New Zealand's Gold Rush
During New Zealand's gold rush period, which lasted from 1861-71, there was a sharp spike in immigration, as people arrived in droves, all hoping to get rich quickly. The result was that, for this decade only, the publication of full passenger lists was suspended. So, if your ancestors came during this time, you might well not find a record of their arrival.
Additionally, they may have come to New Zealand via Australia. Since passenger lists from Australia weren't always kept, once again you might not find a record of their arrival. Something you can do, if you suspect they took this route, is to check Australian passenger lists to establish if your ancestors went there first (Sydney and Melbourne were the principal ports).
Finally, there might be several other obscure reasons why you can't find a record. A number of people arrived as stowaways for instance. In those cases (and they were very few among the overall total of immigrants) the only record of their arrival would be if they were caught and prosecuted. Also, if they came as servants for cabin passengers, their full names wouldn't have been recorded, being considered as an underclass.
You might also like...