The Irish Potato Famine and Emigration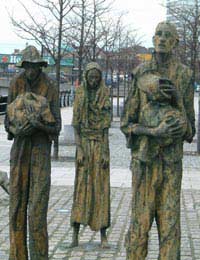 No one knows how many people really died during the Irish potato famine (known as the Great Famine in Ireland) that lasted from 1845-1850. The best estimates run between a million and a million and a half people.
Potatoes were the subsistence crop of most of the Irish people, and when a blight affected the potato they starved to death, as the British government did little or nothing to alleviate the hunger.
Others, the lucky ones, emigrated, leaving a desolate Ireland for a new, better life. Around two million of them went, mostly to the US and Canada, but also Australia. Between death and emigration, Ireland's population fell from seven million to four million.
The History of Irish Emigration
The famine gave a massive boost to Irish emigration as all those capable of leaving did so, but it was hardly the beginning of it. That had come a century earlier, and over the course of 50 years in the 18th century some half a million people went to America. In the first half of the 19th century those figures trebled. All told, around 10 million Irish left Ireland behind them, the vast majority never returning.
But there was no doubt that the famine itself was a huge spur to emigration. It changed not only the face of Ireland but also of the east coast cities of America. They were fleeing almost certain death but often carried it along with them. It was quite common to find mortality rates of 30 per cent in the ships carrying emigrants, and they became known as coffin ships.
Where Did They Settle?
In America, the Irish settled in great concentrations in Boston, New York, Baltimore and Philadelphia. In Canada it was Montreal, Quebec, Saint John and Toronto, where the 1851 census showed that over half the city's inhabitants were Irish.
This influx of poor, often uneducated people wasn't always welcomed, by any means. There was a great deal of prejudice against the Irish, who were often seen (just as they had been by the English) as a sub species, rather than fully human. People were reluctant to let rooms to the Irish, and signs saying "No Irish" became commonplace.
As with so many immigrant communities, they clustered together in areas, partly for community, but also for protection. Although some 41 million people now proudly declare themselves to be Irish-American –that's one in five white Americans - for many years being called Irish was a stigma and there was a very strong anti-Catholic lobby. However, it only took a few decades for the descendants of immigrants to make their way up the economic and political ladder.
Another destination was Australia that offered a warm new start, especially for those with farming experience. Not as many went there, however. The passage was much longer and more expensive, and it was associated with penal transportation. More emigration to Australia occurred after the famine than during it.
In Britain
Although emigration to the New World was commonplace, many others elected to go to England, and large Irish communities sprang up in many cities, notably London, Liverpool, Manchester and Leeds. Around one-tenth of the British population can now claim one Irish grandparent, a signifier of the numbers of Irish who came to Britain.
As in America, they lived in the poorest areas, usually in slum housing, in desperate conditions. They worked when and where they could, facing prejudice, the men often finding employment as unskilled navvies or in construction. The railways and the great buildings of Victorian England were largely constructed by Irishmen.
Scotland, too, had an influx of Irish immigrants, most notably in Glasgow and Edinburgh, and both Celtic and Hibernian football clubs have their roots in the Irish communities.
You might also like...