Using Voters' Records for Tracing US Relatives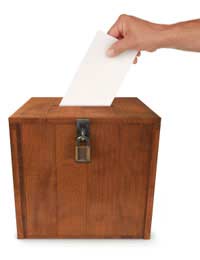 When tracing relatives who lived in the United States, there are many sources available, although the depth of them varies greatly from state to state. One area that's often overlooked, though, is voter records, which can offer some wonderful, insightful information.
The problem is that the states keep their own records, and some go back further than others, meaning they're not always going to be useful. But as an avenue to explore, where if you find something, it can be very productive indeed.
The Difference Between States
America is a nation where people move a great deal, and historically always have. So it's vital to know where the person you're researching lived at a particular time. Also, of course, they would have needed to register to vote, and not everyone did, by any means.
States maintain their own voter registration databases, and those are broken down by county, although those online will be searchable by name. How far back they go depends on the state and how long they've kept records (in Alabama there's a database stretching back to 1867, whilst a company has a California database that runs from 1900-1968, although it's worth recalling that until the beginning of the 20th century California only had a small population, even with the wagon trains heading west). Of course, only American citizens would be eligible to vote, so if the person you're tracing hadn't taken citizenship, then you'll find nothing.
In some cases the databases will have been assembled by volunteers, meaning they're not complete, and there could be errors. Many databases are not available online.
Accessing Voter Records
In many cases you'll need to contact the Records Department for each state to find out how to contact those responsible for maintaining the database. Considering that the US is so enthusiastic on family history, it's perhaps surprising that more of this information isn't readily available.
What Information is on a Voter Registration Card
The information on a voter registration card will vary a little from state to state, but there will be a number of things that will appear consistently - the name of the person, address, age, occupation, and where they're registered (this could be just the county or as specific as a ward). A person would need to register every four years.
All too often the person will also have to give their political affiliation. Generally this would be just Republican or Democrat, but going back there was a wealth of parties, and in the early 20th century there were even registered Communists. Some voters could also decline to give a party affiliation.
When a person stayed in the same state, voter registrations over the years can paint an interesting picture of changing jobs and addresses, as well as changing politics. Of course, voter records work best alongside census records as a way of filling things out and offering more information.
These records can take some work, and even the best databases can require several attempts to find the person you require. But as a way of adding detail, they can be excellent, and all too often they're bypassed. They make a good supplement to Social Security records, which are kept by the Social Security Administration.
You might also like...