Using Criminal Records For Family History Research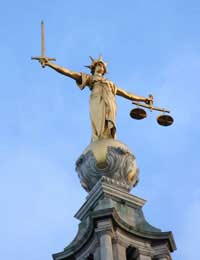 Let's face it, as much as we dread the idea of finding a criminal in our family history, there's also a thrill to it, too. It adds a bit of colour to what might otherwise be a very sober family tree. A lot, of course, depends on the crime; we might not want up to being descended from a cold-blooded murderer, for example. Yet for a long time so many things were treated as crimes that you might well have had a relative who ended up in court.
Genealogy And Accused Persons Records
One thing about the penal system, it generated a lot of paperwork. They had to keep tracks of criminals in jail or awaiting trial. For anyone involved in genealogy, the beauty of criminal records is that many of them, certainly from the 19th century, still survive. What's more, they can reveal a lot about the accused.
The calendars of people accused of crimes but awaiting trial would generally have a name index, along with the given name (not always the same thing), crime, age, trade and whether literate. Depositions for the Quarter Sessions (which was for the lesser crimes that didn't warrant an assize court), would have name, address, occupation and signature. If your ancestor was a criminal, you'll certainly find him in those.
Records of Convicted Criminals And Family History
If a person was found guilty, the sentence could be many things, ranging from prison to transportation or execution by hanging (a popular public spectacle for many hundreds of years). But whatever happened, they'd initially have to be transferred from court to jail, and the papers for that give the next of kin, age and marital status. In genealogy, that information is worth its weight in gold, because you establish not only a home address, but also a relationship to help you along with your family tree.
Prison registers, too, can be a motherlode for family history. They're available for most of the country from 1805-1892 (London from 1791). Those criminal records give you the criminal's given name, place of birth, and the date of death (if they died in prison), any evidence of their identity and their residence. Some even add residence, place of birth, marital status, number of children and religion – a genealogy treasure trove. For juveniles (and there were many) you can find the name and address of their parents. Repeat offenders and escapees had their descriptions listed, a little item that can fill out a family history nicely.
Those in jail were termed prisoners. If they were transported, they became convicts, and a further wealth of paperwork was generated about them. Hanging was the end of the line for many, and often for crimes that wouldn't even get them in jail today. Again, there are exhaustive records.
Where to Find Old Court Records
The National Archives is the main source for criminal records and genealogy. They certainly have all those from the Old Bailey and the assize courts. Magistrates' court and Quarter sessions records will be held locally, and were concerned with commonplace crimes like fornication. They were also charged with everyday tasks like discovering the fathers of illegitimate children, and the granting of licences to sell alcohol, but again, small things like that can reveal a lot about your ancestors.
Police Records and Tracing Family History
If your ancestor was on the right side of the law, you can find his records with the local police force. Or, if he served in the Metropolitan Police between 1829 and1933, those records (which aren't complete) are at the National Archives – another genealogy avenue.
You might also like...
I am trying to find my biological father's police criminal record as I was abused as a child but have not yet found how long he was in prison for. If any one can help this will be mostly appreciated.his name is ROBERT HARPER DATE OF BIRTH 17/08/1957 Manchester UNITED KINGDOM But was arrested in 1988 in Dewsbury please help
TAZZIEBEAR20
- 22-Aug-23 @ 7:06 PM
my late father frederick william pelling b 1924 died 1974was a bit off a bad boy arrested a few times , for driving and drink offences,i have found most paper cuttings but in 1978 our house burnt down leaving nothing, i saw he was arrested in 1957 aged29 is their any way i could get he,s police picture,smug shot,si think are could or any picture,s off him , how do i go about it , many thank,s A W PELLING .
HANK
- 12-Aug-20 @ 1:49 PM
Hi my uncle has just recently passed away and I'm wondering if you can find anything on his criminal record. I know he was involved in a lot of things but I would like to know more detail and if there were more convictions than what he has told us all.
Hi I'm looking for my dad Jason handy was last in court bow Street London but he's from Clackmannanshire never seen or heard from again if anyone can help would be good.
Buhda
- 17-Oct-19 @ 1:50 PM
My grandfather was a convicted pedophile and I want to find out about his jail sentence and whatever records I can findv
Mel
- 31-Aug-19 @ 7:14 PM
i would like to find my dad his name is fraser i wondered if i could see his record and use his info to find him i don t know much about this stuff as i am young
ezz
- 26-Mar-19 @ 2:17 PM
My father Edward lamb . Born July 1957 . Was last known at the address of Bedford prison in 1978. (I'm adopted & have never met him or my mother) I'm curious to find out why he was in prison. This will help determine wether or not to pursue tracing him. He was apparently a gypsy and myself and other siblings were taken away by social services. I have yet to trace any family including brothers/sisters. Thankyou for your help.
Cyl
- 20-Jan-19 @ 9:41 PM
My grandfather apparently was imprisonedfor bigamy either late 30s and released in 1946. We don't have any other details.He originally came from Hull and was called Yorkie although his name was Frederick Albert Walker and was born in Sculcoates, Yorkshire in 1893 and died in Ware in Hertfordshire in the 70s.
Carla
- 20-Jan-19 @ 5:31 PM
I have just found out the my grandfather served prison time in the West Midlands during the 1950s. How do I find out about his prison records and what offence he committed.
Jack
- 17-Nov-18 @ 2:18 PM
I am trying to find out my father's criminal record please. he has recently died and my mother has just told me he committed a murder between 1950 - 1970 my father's name is william arthur smith dob: 07.12.1935 Birmingham UK died 29.01.2018 my mother claimed, it took place in redditch, worcs. he apparently served 7 years, he killed a man (maybe business partner) in a mechanics garage that specialised in mini's ........... please help.
shell
- 30-Oct-18 @ 6:35 PM
There's been an accusation made against one of my family members and I'm wondering if it's possible to find any records on this, Thankyou for your time
Moses
- 14-Oct-18 @ 3:38 PM
I have been trying to find my father's criminal history. My deceased mother made some allegations about his criminal history. I never knew him as they broke up when I was 6 months old. His name was Neville Chapman and Im aware he was in Strangeways from late 19 50s. Thank you
I am trying to find some record of my Grandfather who was imprison for some time in the late 1930's . I have his name date of birth, and he lived near Redditch Worcestershire. All family records and photos were destroyed.
Paul
- 12-Feb-17 @ 10:50 AM
I am trying to find details of a court case in London/E London dating from 1970 (+/- one year) in which the defendant received a 3 year sentence for armed robbery. I do not know any more than those dates, the person's name, very rough details of the crime and which end of London the crime occurred in. Where do I start?
Dixie
- 10-Jul-12 @ 1:00 PM
The problem, of course, is that going back it's much harder to find any court records. So if you had a criminal ancestor in the 18th century, only a few of those records - such as ones from the Old Bailey - really remain and are useful. Many have simply vanished, and in many instances it can be difficult to find records of executiosn, lets alone trials. This adds to the problems in putting together a complete family history.
Ray
- 30-May-12 @ 2:27 PM