Genealogy Resources In Australia And New Zealand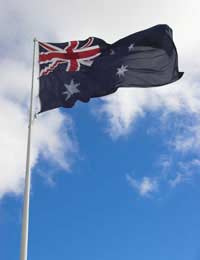 The way the first British settlers found their way to Australia was as convicts, when the country was a penal colony from 1788-1868. After that, and until just a few decades ago, others went as free emigrants, often under the aegis of "assisted passage," where a person could move to the country for just £10. It offered a fresh and sunny start for thousands.
Australia became a Federation in 1901, part of the Commonwealth - prior to that it was a colony. The Australian National Archives are housed in a handsome building in Canberra, although there are access points in every state capital, and they can be found online at www.naa.gov.au. There's a great deal of genealogy information regarding Australia within their records, including:
Passenger lists
Naturalisation
War crimes and trial records
Records for statutory authorities
Record for military units
Records for law enforcement agencies
Maritime Records relating to Aboriginal and Torres Strait Islander peoples.
You can find indexes for Australian birth, marriage and death records through the
National Library of Australia
, making that a prime stop for anyone working on a family tree in Australia. Unfortunately, not everything is online, by any means, and the starting date depends on when the particular state you're researching was settled (New South Wales was 1788, for example, but South Australia not until 1842). But you'll still be able to perform good searches for your ancestors.
Convict Records are abundant, which is good news for those involved in family history. You can access many in the British National Archives, and the Australian Joint Copying Project has records for Australian researchers, with the State Records New South Wales as the main repository for Australian convict records. The Society of Australian Genealogists is also an excellent resource for information.
Genealogy Sources In New Zealand
The first white immigration to New Zealand occurred in the first quarter of the 19th century, with the first Official Resident appointed in 1832. It was the Treat of Waitangi between the British and Maori that gave the foundation of modern New Zealand, since when population has grown across both the South and north islands.
For anyone putting together a family tree or involved in genealogy research, it's helpful to know that birth, death, marriage and civil union certificates are available from the New Zealand government, and can be ordered online. However, you will need certain information first:
The name(s) of the person or couple concerned.
The date or year and place of the birth, death, marriage or civil union for which you want a certificate.
The name and postal address of the person applying for the certificate.
Other relevant details (e.g. names of parents, if you are looking for a birth certificate).
The current charge is $NZ26 (about £8.75).
Archives New Zealand is another genealogy resource in New Zealand, and one which can do remote research for you. You won't be able to access much in the way of family history material online, but they have a staff that can undertake the research on your behalf in the archives for a very reasonable amount. In most cases, copies of the original documents they uncover about your ancestors can be provided.
The first full census in New Zealand was conducted in 1851, after which the census was triennial until 1881 at which time it became five-yearly. The 1931 census was cancelled due to the effects of the Great Depression, as was the 1941 census due to World War II, but there's still a great deal of genealogy information to be gleaned from what's available. 1951 was the first year in which Maori and European New Zealanders were treated equally, with Maori having had a different census form in previous years and separate censuses in the nineteenth century.
You might also like...