How to Make a Family Tree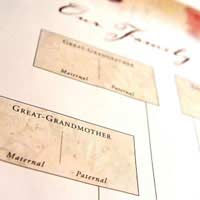 We think of making a family tree as looking into your family's past, but that's not strictly accurate. Family history is what you research when you look back at your ancestors and their lives. How you display it – at least in most cases – is via the family tree. This is the way we're used to seeing it displayed, and a way it makes most sense to us.
Family trees can be vertical or horizontal (vertical is the usual method, and easier to follow), and although they trace the relationships, they actually contain very little of the information you'll uncover in your research – just the tip of the iceberg..
What Should be on a Family Tree
By their very nature, family trees must be tightly focused. You begin with yourself and work backwards, concentrating on either your father's or mother's side of the family, as there's not room for both. Although the siblings of an ancestor might be shown, their own marriages and offspring will not be displayed.
In some cases you'll find dates of birth, death and marriage shown, in others you won't. There's certainly no hard and fast rule on the matter, it depends what you want to do. The farther back you go, the more you'll tend to show only direct ancestors (grandfather, great-grandfather, etc.) and spouse. In part this may be because you're unable to trace siblings, but more often it's simply governed by the space. If you're making a family tree to be framed, then you're limited by the size of the paper and the amount of information you want to put across.
Looking online will offer a number of templates you can follow, and there are many sources of family tree software, some free, some which cost money. How you do it is up to you – some people even create websites to show their family tree; that's not as strange as it sounds, because it promotes contact with others who might have family information or be related, helping to create a bigger picture, and gives you the chance to show all your research and documents on the site. However, not everyone wants to go to all that trouble. The important part is that you will, of course, have records and evidence to back up everything on the chart – and ultimately that's the most important part, even if no one but you ever sees it.
Starting to Create Your Family Tree
You can start your family tree anytime you want. You don't even have to do any real research first. Put your name down, link it to you parents, then above them your grandparents, and great-grandparents, if you know their names. There you are, you've made a beginning on the project.
Of course, it will take a lot more work – it can become a hobby that fills a lifetime – to go back generation after generation, and in most cases there are limits on just what you can find out after you've gone back a couple of hundred years. But you'll have it all laid out in front of you, and in the form of a chart relationships do make more sense. What you've essentially laid out is a map.
Family History for Kids
You can start your kids out making a family tree from a young age. To begin, limit it to parents and grandparents – it helps them understand the relationships more fully. As they grow a bit older you can work with them to go farther back.
You might also like...