Becoming a Professional Genealogist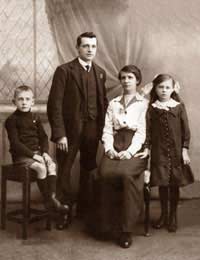 If you've successfully researched your own family tree, and maybe helped friends with theirs, you might begin having thoughts about becoming a professional genealogist. It can certainly be a tempting idea. After all, you'd be making money for something you enjoy, and learning more in the process, as well as having constant challenges in your work.
But what, exactly, is involved in being a professional genealogist? Do you need special qualifications, is there a degree course you can take? What do you really need to know in order to do the job well?
The Basic Necessities
The good news is that you don't really need any special qualifications to set yourself up as a professional genealogist. That said, there are courses you can take that will greatly improve your knowledge, held by the Society of Genealogists. Additionally, there's a three-year diploma course in Family History available at the University of London, and courses from the Institute of Heraldic and Genealogical Studies which can also lead to a diploma.
However, to be truly effective in your work, you really need to have in-depth knowledge of several subjects. History, of course, is vital. That should be both national – and covering everything from the Middle Ages onwards – as well as local, which is vital if you're concentrating on one geographical area. Without that background, you can easily be foxed when you reach a problem. The more you know about the past, the easier it will be to unravel. Secondly, a knowledge of Latin will be one of your most useful tools, since so many older documents, both legal and religious, are in that language, and you really need to be able to translate them yourself. Finally, you'll also need to know something about law, not just as it stands now, but also how it was in the past, which will aid you in untangling all those wills and probate judgements.
It's also useful to be able to drive. That might sound minor, but when travelling is involved, having your own transportation makes the job a lot simpler and faster – and cheaper for your client, who is billed by the hour.
Starting Out
You could just advertise yourself as a professional and hope business comes in, or you could begin working with an established professional genealogist, either as an apprentice or as a record agent.
What's the difference? A record agent is the person who does a lot of the footwork, going out and finding the necessary records; it's the sharp edge of the profession, if you like, and for those who truly love research, it's the ideal job. The genealogist is the person who takes those records and puts them together to fashion the family tree. That's not to say a genealogist can't also be a record agent (and vice versa).
How to Proceed
Once you've undertaken a number professional assignments, you'll want to join AGRA, the Association of Genealogists and Researchers in Archives (in Scotland, the Association of Scottish Genealogists and Record Agents, and in Ireland the Association of Professional Genealogists). It's the seal of approval for professionals, a sign that you're experienced, that you've undertaken courses, and your work can be trusted. You should also be a member of the Society of Genealogists, a very good organisation for those interested in the subject, and which offers useful resources.
As a warning, you're not likely to become rich as a professional genealogist. It's a very satisfying, and constantly challenging profession, but not the most lucrative in the world – for many it remains a paying hobby. If you can live with that, then maybe a new career is beckoning you.
You might also like...
Hello, I am hoping anybody might know any professional genealogist's in gloucestershire? I am hoping to have an apprenticeship. Any help would be great. Thankyou
Laura
- 16-Sep-12 @ 10:34 AM
Bear in mind that although anyone can call themselves a professional genealogist, you have to be able to back it up with real results or you'll quickly find yourself without work. Tracing your own family tree is a start, but you need much more than that. Take courses and join the organisations to give yourself credibility. Be willing to work for small wages at first and charge more once you've learned much more.
Alison
- 11-Jun-12 @ 9:22 AM