DNA Testing and Genealogy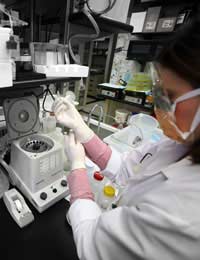 In spite of all you may have been led to believe, DNA doesn't have all the answers about genealogy. You won't be able to take a DNA test and come up with an instant Family Tree.
But there are interesting things that DNA can tell you, some of which can prove quite surprising. It can give very strong indications of your ethnic origins, discover if two people share a common ancestor or are related, and if you're related to others who share your surname. That, when you think about it, is quite a lot.
One thing DNA testing has proved is that all Europeans are descended from one of seven women, known as the "seven daughters of Eve", who lived 40,000 years ago.
Taking DNA Test
With home tests available and relatively cheap, anyone can do a DNA test. You buy a kit, take a swab from inside your cheek, and send it to the company selling the kit. A few weeks later you receive your results.
What you get depends on the type of test. There are two tests possible, mtDNA and Y Line. The first shows mitochondrial DNA, which is only passed from the mother. From that you can learn about a shared female ancestor with someone else, although establishing a date for that ancestor is largely impossible.
The Y Line test only works with males, since the Y chromosome is passed from father to son. It can establish if you're related to someone with the same surname, or related to another person. The more "markers" in your test, the greater the amount and preciseness of the information you'll receive.
Both tests offer markers that can give indications as to your ethnic background, determined by the haplogroup.
Linking DNA Test Results to Ancestors
By themselves, DNA test results don't tell you a great deal. It's more the questions you ask that are important, and how the results check against other results and established databases.
The ideal thing is to have several members of your family – or, even better, people you think might be family – all submit to DNA testing, and discover if you're linked. That could determine a possible link between, say, the Shropshire Smiths and the Yorkshire Smiths, whether you share a common ancestor (referred to as most common recent ancestor, or MCRA). The greater the number of people taking part, the better the sample, obviously, and the more likely you are to establish meaningful results and answers to your questions.
Some companies do have databases with results available and you might be a close match for some people, and that means you could contribute to each other's family trees. There might well be others with a match, but not as close.
Finding a Testing Lab
The problem isn't so much finding a testing lab as finding the right lab. Home DNA testing has become quite commonplace these days, both in the US and here. For around £200 or less, you should be able to find a test.
You'd do better to deal with a British lab. Not only is it closer, but any database it has will be British as opposed to American. You'll also need to select which test you want, and that depends largely on what you're trying to establish.
You might also like...