How to Use Obituaries for Study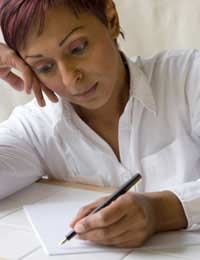 When working on a family tree you'll obtain information from many different sources. One of the most useful, when you can find them, are obituaries. If they're of any length at all they can offer a wealth of Information On An Ancestor and truly help spur research.
What You Can Learn
An obituary is a death notice inserted – generally in a newspaper – by family of friends of the deceased. It gives a précis of the person's life and achievements, including where they were born and how and where they died.
Also, in virtually all obituaries, the parents of the deceased will be named, along with any spouses or children the dead person might have had. All that information opens things up for you. With an obituary of any length you'll also learn of any Military Service that the person might undergone. For any genealogist, all that knowledge means tracking the major events in that person's life becomes much easier.
Family History
The problem is that it's often only prominent people who receive full obituaries, something of more than a single paragraph. These might be written by family or even a journalist.
These will offer a much fuller account of the person's life, education and achievements in different fields. For those researching family history, rather than just the Family Tree, this is important. It fills out the picture, taking it from a sketch to a painting. For anyone looking to have a much more complete family history, these full newspaper obituaries are like gold.
Where the obituaries are smaller, which is what you'll find in the majority of cases, you can still extrapolate some information, although the nature of it is that it will be much less. Through the 20th century, relatives will often have put death notices or obituaries in the local paper, essentially an advertisement. That's something that cut across classes.
From the end of the Victorian age, when literacy became the norm, rather than the exception, people began to read newspapers in large numbers, so putting in this information was valuable to let people know about a funeral, or to make them aware of death – the obituaries and death notices were widely read.
Earlier Times
Obituaries have primarily appeared in newspapers, and have been around as long as papers themselves, although that's effectively only since the 18th century. In those days only the leading citizens would have had an obituary. There wouldn't even be death notices for those of lesser rank, as most of them couldn't read and were considered nonentities.
Those aren't the only sources of obituaries. In the 19th and 18th centuries, the undertakers handling the burial (or cremation, in later times) would often issue an obituary regarding the funeral to remind those attending of all the deceased had done.
Finding Obituaries
When looking for obituaries in newspapers, always check local papers first. These will generally be in local records offices. Check for up to two months, possibly even three, after the person died. Although they might appear just after death, especially when they're death notices (and you need to check both obituaries and death notices). In some cases, though, they didn't appear for some time. It's only worth checking national newspapers where your ancestor was a person of note.
You might also like...