What's at the National Archive?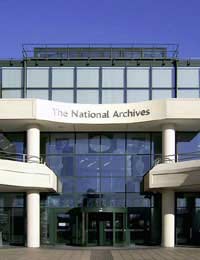 Sooner or later, anyone looking into family history in Britain is going to need the National Archives (and Scotland and Ireland both have their National Archives, too). Located in Kew, outside London, it's the repository for so many records that are useful in genealogy.
As time progresses, more and more of these records have come online, currently more than a billion of them, although that's only a small percentage of what's actually held at the Archives. From the Domesday Book onwards, it's a wealth of information for every kind of historian.
History
The National Archives is a relatively new institution, one that represents a consolidation of four agencies, the Royal Commission on Historical Manuscripts, Her Majesty's Stationery Office, the Office of Public Sector Information and the Public Records Office. During the course of the years 2003-2006 these came together to form the National Archives. It's currently under the Ministry of Justice.
Records
There are records of all kinds that are held by the National Archives. Many relate to government and armed forces business or to the central courts. These are all worthwhile, and certainly excellent for historians, but of limited appeal to genealogists.
For family historians the National Archives is nonetheless an Aladdin's cave of treasures. There are census records, dating up to 1911 (censuses can only be released after 100 years), military records from the 17th century up to 1920, naturalisation records and ship's passenger lists running from 1878 to 1960, both for ships arriving and leaving Britain, records of service for several organisations, including the Metropolitan Police, and several centuries of wills from the Prerogative Court of Canterbury. Note that they don't hold birth, marriage and death records.
Many of the records are available online, although obtaining copies does involve a fee, as the National Archives works with partners. The costs aren't prohibitive, and are much cheaper than a trip to the Archives for those not close to London and only in need of certain things.
Visiting
From Tuesday to Saturday the Archives open at 9am, and close at 5pm, except for Tuesday and Thursday when it remains open until 7 pm. If you want to view original documents, you'll need a reader's ticket; to obtain one bring two forms of identification and be able to prove your address. For using microfilm and microfiche this isn't necessary.
Only pencils (no erasers) are allowed in the reading rooms. You can use a digital camera, but with the flash off, and both laptops and notepads are fine. You will have to pay for copies of documents, so you'll need to bring money or use the ATM on site. The more information you have about what you need by the time you arrive, the better things will be. Finding the records you desire will be quicker and you'll be able to obtain everything you need in one visit.
If you have a reader's ticket you can order up to six documents that will be ready for your visit to speed things up. This can be done online or on the phone. Most of the reading will be done in the open reading room. If you're examining original documents, this will have to be in the document reading room (there's another document reading room on the second floor).
For those who have to travel some distance, it's worth building up your queries so you can spend a full day at the Archives resolving them.
You might also like...