Genealogy And Military Records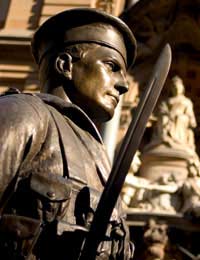 A lot of people – mostly men, especially as you go back in time, but also women – have served in the different branches of the military. For some it was their entire lives, posted abroad – to India, perhaps – and dying in a war or conflict. For others it was simply an interruption in their lives. But they all left military records.
A genealogy search through UK military records isn't that complex, and needn't cost money, although some companies will look on your behalf for a fee.
Military Records in the National Archives
Your prime source of genealogy information should be the National Archives, which has extensive UK military records for the Army, Navy, Marines and Air Force. One of the best places to start for a genealogy search is the list of muster rolls. Since muster rolls were taken monthly (in many instances they were actually taken quarterly) they give a full record of movements. However, for a proper search of military service records you'll need to know your ancestor's regiment in order to track him on the rolls. The rolls date back to the 1730s and run all the way to 1898 and probably form the prime source for army military records.
If your ancestor was an officer, you can find his military records in the Commission Books, which run from 1660 all the way to 1913, while the Army Lists are the ideal way to follow the career of a regular solider.
For a marine, if you know his division, then you can find him either in the attestation forms or the records of service, although this only applies to those who enlisted prior to 1925.
When it comes to genealogy and naval personnel, trace them through ships' musters (which should also give you good basic genealogy information on the man including age and place of birth). However, you'll need to know at least one of the ships on which he served. When researching the military records of naval officers, go first to the Navy List, which was updated quarterly. There are also the registers of officers' services, although you won't find much prior to 1840. A better option might be to research officer's passing certificates, since all would have had to pass an exam to move from midshipman to lieutenant, or the full- and half-pay registers.
The Royal Air Force is the newest of the services, and that means its records and more complete, including the miliatray service records of the three branches that came together to form the RAF.
Genealogy and the Imperial War Museum
Although you won't find much of direct interest to genealogy at the Imperial War Museum, their archives will help you put the war experiences of ancestors who were involved in the First and Second World Wars into a much greater context that can be important when putting together a family history. It's also possible that you might find a picture of your ancestor in their extensive photographic collections.
Genealogy and The Commonwealth War Graves Commission
Many, many Commonwealth service personnel died during the First and Second World Wars, a total of 1.7 million, not only on the battlefields in Europe, but in Africa, Asia and at sea. The Commonwealth War Graves Commission was set up to remember them and their information can be a great genealogy resource. If you have an ancestor who died in the wars, you can search the records for some brief information on the person, including military service records, as well as where they're buried or commemorated.
India
Prior to the 20th century, India probably saw more British military personnel than anywhere else in the world, initially with the East India Company Army, and later the Indian Army.
If your ancestor was there, look at the India Office records at the British Library. Unfortunately, only part of the military records are accessible online, so you might have to go to the Library in London for more in-depth research.
You might also like...