What Welsh Surnames Can Tell Us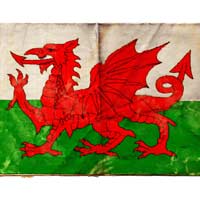 Welsh surnames can seem quite confusing. Relatively speaking there are few of them, far fewer than in England, for example. But there's a meaning to the surnames, just as there is in other Celtic countries, and understanding that can help with sorting out any family history – at least to an extent.
Going back a few centuries, in Wales the ability to recite one's genealogy going back several generations (or far more) was quite common, something not seen so much anywhere these days.
Why So Few Surnames?
There's no deep mystery behind the fact that there are few surnames in Wales. It all comes about because, in the days before fixed surnames (which arrived later in Wales than in England), a man would be referred to by 'ap' meaning 'the son of' (actually a contraction of 'mab') followed by his father's name. This patronymic style would move on from generation to generation.
So there would be David ap Owen (both names given in English spellings – in Welsh if would be Dafydd ap Owain), as an example. When the fixed surname came into being, that would have become trimmed to David Powen, and speech would gradually have altered the surname to Bowen. This wasn't a universal change. David ap Owen could just as easily have ended up as David Owens – a simple 's' on the end signifying the surname. These methods, and the fact that few Christian names were in use, is the reason for the relative paucity of surname variations. By far the most common surname in Wales is Jones. This comes from the name 'John,' once extremely common in the country.
How Names Were Anglicised
For several hundred years England and Wales enjoyed a rocky relationship. It wasn't until 1536 and the Act of Union between the two countries that England took effective legislative control of Wales. That Act stipulated that all the official records had to be kept in English. As the English ran the bureaucracy, that meant that many Welsh names became Anglicised, whether they liked it or not, as this made them easier to pronounce and write. From this, Dde ended up as Dee, to offer just one of many instances.
The Anglicisation also meant, eventually, a more standard spelling for the surnames, which proved to be useful – at least for those keeping the records, even if it was imposed on the real owners of the names.
Other Surnames
Of course, there's much greater variety than this in the country among surnames, and others derive from different sources, much as they do in England, where people take their names from places, trades, or specific features that might once have been family traits. Names have been given like this throughout history, often as nicknames (they were common in Viking times, as an example, with Eric the Red or Eric Bloodaxe).
It's because of this, and the ways the names have been altered over the years, that we have Welsh surnames like Lloyd, which originally meant grey-brown, or Vaughan (also Vaughn), which comes from the word for younger.
It wasn't until 1837, when there was a centralisation of civil records, that the process of Anglicising Welsh surnames became complete and the standardisation finalised.
Female Names
Just as a boy would be 'the son of' so a girl would be known as 'ferch,' meaning 'the daughter of.' You'd find, for example, Rhiannon ferch Rhys – Rhiannon the daughter of Rhys. It would always be the father's name that was given.
When a woman married she kept her name, at least until surnames became standardised, as there was simply no surname for her to take. Once there were established surnames that remained the same from generation to generation it became commonplace for her to take on the husband's surname.
Genealogists
Although the Welsh of bygone days might have been able to recite their genealogies, for modern historians the time before standardised surnames is a nightmare. Surnames offer a fixed point. Even the small pool of surnames is better than the old patronymic system which makes it impossible, certainly at this remove, to trace ancestry.
You might also like...