Latin In Church and Legal Records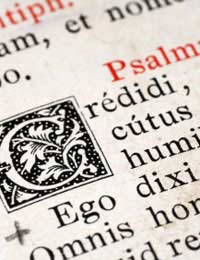 For hundreds of years, Latin was the common international tongue of the educated. It was that way before the Normans conquered England in 1066, and remained that way for a few hundred years afterwards – indeed, it wasn't really until the time of Elizabeth I that English really flourished as a language, and only during the time of Henry VIII that the Bible in English was widely disseminated in the country, allowing those who could read the chance to understand what it contained.
Indeed, for many years people could escape death by Benefit of Clergy if they could quote scripture in Latin, showing they were educated, as it was really only the clergy and nobility who learned Latin.
Records In Latin
For centuries, all records, be they civil or legal, were in Latin. They were written by clerks, and clerk derives from cleric, which gives a strong indication of the people who were writing them, since they were the ones who'd had the education through the Church to be able to read and write Latin.
All this means that if you're looking back to medieval genealogy records of any kind, you're going to need to know Latin in order to make sense of them, although some may well be in High French or even Middle English – but it was Latin that prevailed.
That doesn't mean you need to enrol in an adult education course in Latin to work your way through your family history. There are professionals who can undertake the work for you, and once you become familiar with the format of legal and civil documents from the period, you should be able to puzzle most of it out, given a little time.
Additional Problems With Latin Records
As if the fact that they're in Latin wasn't problem enough, remember you're dealing with an entirely different period that has its own terminology, which might seem meaningless unless you're familiar with it (and it, too, will be in Latin). On top of that, like anyone else, the clerks were always in a hurry, so they tended to use abbreviations on many civil and legal documents, meaning you have the additional puzzle of working out what they mean, especially as they didn't all use the same abbreviations! However, with some familiarity with the documents you can come to understand the gist, if not always the details.
Even many of the aristocracy didn't have the kind of education monks and the clergy enjoyed in medieval times; many of them, especially the women, were unable to read or write, let alone know Latin, and it was a given that those of lower classes, with the exception of merchants and those in trade, also enjoyed no education at all.
Of course, Latin can be a problem even today, with many medical records containing Latin terms. However, these days it's easier – simply use a dictionary or look up the medical records term online!
What Latin Records Tell Us
There's a lot we can learn for genealogy in legal and civil records. They record marriages, deaths and baptisms – although you always need to be careful of the writing; clerics had education but they didn't always spell too well, even on names – as well as wills, exchanges of land, almost everything. If you're following the trail of your family history back to medieval times, you'll run into Latin records, so be prepared!
You might also like...