Tracing Huguenot History in England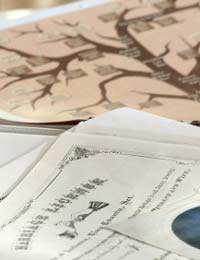 Britain has a history of immigration – if you can go back in your own family tree far enough, the odds are that in your distant ancestry your forebears will have come from some other country. During the 16th and 17th centuries, however, there was an influx of people from France and what is now Belgium, Protestants oppressed by the mighty Catholic Church there who sough refuge in another Protestant state.
Who Were The Huguenots
The term Huguenot is actually a very broad one, and not strictly accurate. They were Protestants, both French and Walloon, who were really Calvinists. The Catholic Church was strong in France, and although a Huguenot rebellion won them rights there, some slipped away during the reign of Elizabeth I to avoid persecution and settled in London – their earliest church was in what's now Soho Square.
In France literally thousands of Huguenots were killed in the St. Bartholomew's Day Massacre of 1572, although the 1598 Edict of Nantes did give them a certain amount of religious freedom until it was revoked by Louis XIV in 1685, which gave rise to more persecution and many were forced to flee, not only in France but also in the Walloon area.
Some went to the Netherlands, a staunchly Calvinist country, while others brought their skills to England. They were valued for their work as silk weavers, silversmiths, hat makers and in other crafts; indeed, the influx of Huguenots made England an exporter, rather than importer, of these items.
Most settled in the South East, but some, particularly the Walloons, were in East Anglia and the Fens, where their ditching skills, learned at home, proved especially valuable in reclaiming marshland. There were big Huguenot communities in Cambridgeshire, especially around Thorney.
Researching Huguenot Family History
A French surname in your family doesn't automatically mean Huguenot ancestry; nor does an English name means there aren't Huguenots in your family tree.
The only way to really find out is to go back. Use the usual genealogy routes of birth certificates and censuses to establish your family back to at least 1837 (when the civil registration of births began), and if possible to 1800, which is where these records overlap with Huguenot records.
At this point the Huguenot Society becomes an important genealogy resource. Their Quarto series contains most of the records from Huguenot churches in England, although you should be aware that in most cases only baptisms and marriages are recorded, not deaths. Alternatively, you can access the originals of these records, which are held by the National Archives in Kew. But by the second half of the 18th century, due to assimilation, many Huguenots worshipped in their C. of E. parish churches, meaning you'll also need to check those records to trace your family.
Also worth try are the records of the French Hospital, and the Huguenot Society's Quartos carries all those records up to 1957. Additionally, there are Huguenot genealogy sites online that can give clues and hints, if not all the answers – you'll still need to do a lot of leg work.
Huguenots Leaving England
For a large number of Huguenots, England was only a temporary home. Many moved on to settle in America and South Africa. So, in building up a full picture of your family tree, you'll also need to look at Huguenot settlements there and their descendants. There are a number of web sites that can help at least narrow the search there.
You might also like...
I can trace my family tree back to a village near Cambridge, and the family name is Silk.They moved down to the East of London later and continued to be silk weavers. Is it possible that these ancestors were of Huguenot decent? Can anybody shed any light on my family history before 1650.
Nuffwerewolf
- 5-Aug-13 @ 9:52 PM
my grand father told me that my ggg grandfather spoke french and was frenchman, we live cambridgeshire in the fens so i am thinking we are walloon ditchmakers our surname is Bonnett
tombonnett
- 19-Oct-12 @ 1:21 PM
My mother's maiden name was MACE and I was told years ago that we had Huguenot ancestry. This is borne out by finding that my g-g-g-grandfather, g-g grandfather and g-grandfather lived in Bethnal Green and were silkweavers. However, further back still they lived in Deptford and one was a shipwright. I believe MACE may be an anglicisation of the French name MASSE . As far as I can tell there is no connection with the Norfolk MACE family, which includes the famous pugilist Jem MACE. I would be grateful for opinions on this. The first names are very ordinary, John and James but then Josiah.
RobinKiwi
- 9-Sep-12 @ 12:19 AM
I think I have Huguenot ancestry, there is a Christian Henry Wiwel in my tree, and either he or his father fled to England when being hounded and their homes burnt down. Christian married Victoire Longuehay in London, I wonder if she was also a Huguenot. My mother often talks of the Huguenots and us being descended from them. I would love to know if that is true!
This is for Tina. My grandmothermaiden name was De'Ath and she had many connections with Suffolk, a village called Edwardstone. My great grandfather is buried in the church at Edwardstone and my grandmother often spoke of a Hugenot connection. I hope this may be of use to you. Jan
Jan
- 3-Jun-12 @ 11:25 AM
The Huguenots were especially valued for their skills with silk, and silk trade grew up around the places where they settled. So if you live in a community where silk was once king and your family has deep roots there, it might be worth checking to see if they were Huguenots going back in time.
Jim
- 31-May-12 @ 1:04 PM
Am researching my De'Ath ancestry as ages relatives talk constantly about a Huguenot connection possibly in Suffolk.So far I have reached Francis De'Ath a carpenter born around 1787 (no records found) who lived and worked in Battersea
Tina
- 6-Jan-12 @ 11:29 AM
I am trying to find where my Plackett (Plaquet) ancestors originated in Normandy or thereabouts.They are known to have come across to England as Huguenot refugees but that is all I know.
Amanda
- 10-Sep-11 @ 9:36 PM
My Huguenot ancestry is vague - word of mouth from my father but with a surname as rare and strange as Elisha, perhaps there is an element of truth with many foreign names in the past being written phonetically and changing over the years. It points more to a Jewish connection I know, but ironically in my family a Jewish line emanates from my Jewish grandmother, a much later arrival to the family than my 18th century antecedant. Clues anyone?
Gerry
- 12-Aug-11 @ 2:44 PM