Genealogy and Medical Records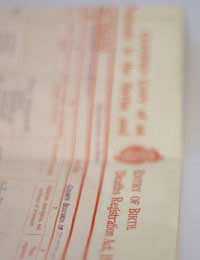 As you can imagine, medical records have the potential to be a great source of information in genealogy. They are not only records of births collated from GPs, hospitals, midwives and clinics, and also those of the superintendent registrar (so the health authority was free to follow up on births which only appear on one list), but also extensive health visitor records and all manner of medical records, including adoption records, that could greatly aid in putting together a family history.
NHS Records and Genealogy
The first National Heath Service numbers were issued on September 29th, 1939, as a security device, leading to the first NHS records. From that point all registered births (and all immigrants registering with an NHS doctor) were issued with a number, and since 1966, those numbers have been added to the Central Register of birth indexes (note, though, that we all have new NHS numbers now and the NHS records system is huge). However, quite frustratingly for
Genealogy Researchers
, access to this medical records system is limited to legitimate purposes within the NHS and some critical emergencies, even though all NHS records electronic health records these days.
Health Visitor Records and Family History
Health visitors maintain a file on individuals, beginning with a copy of the birth notification. Some add a lot more information about the birth and parents, vaccination and some medical records, and even schools attended, addresses lived and more until the age of 25 – in other words, a wonderful
Family History
! At that point, however, the file is closed – only a court order can open it. That, of course, doesn't help in genealogy. These days, these are all electronic health records, but still legally inaccessible.
Hospital Records and Genealogy Searches
It used to be that many hospitals kept their own medical records (the file room was generally in the basement area). These days, however, things are more centralised, and many older medical records are being deposited in local authority archive offices. That's a great idea – except for the fact that the records aren't available for public inspection until they're 100 years old! At the point they can become useful for a genealogy researcher, although they will be pre-NHS, of course, and will not be electronic medical records, which means digging through a lot of paper when you're putting together your family tree, and because the records often aren't complete, there's no guarantee of success.
Adoption and the Genealogy Researcher
A health visitor record will probably state whether a child has undergone adoption (although the child's original surname will almost certainly have been erased). If you believe you've been adopted, you might be able to discover the fact by applying to the local Health Trust to have access to the NHS records. Note, though, that this only applies if you're the person in question, so it might be useful in genealogy if you're just beginning research on your
Family Tree
. However, discovering the facts of adoption is just the first stage in your genealogy search, and can spur an entirely different branch of your family tree.
The Problem with Medical Records for Genealogy
Put quite simply, the problem with medical records and NHS records for anyone involved in family history is access. The need for privacy is both laudable and understandable – you wouldn't want some stranger looking at your records. Even the wait of a century makes sense. However, within genealogy it creates a great deal of frustration. There's plenty that could be learnt from everything available. Ultimately, unless they relate directly to you, you're going to find medical records to be a dead end for investigation and genealogy search. You're much better expending your energy elsewhere.
You might also like...
Jet - Your Question:
If I wanted to see if medical records were available from Cambridge university hospital from 1966 where would I start.
---
Our Response:
You may wish to speak to your GP initially and or start at the university hospital directly in order to trace forward your records, please see link
here
.
ExploreGenealogy
- 19-Sep-17 @ 12:07 PM
If I wanted to see if medical records were available from Cambridge university hospital from 1966 where would I start.
Jet
- 18-Sep-17 @ 3:29 PM