Medieval Ages Legal Records And Genealogy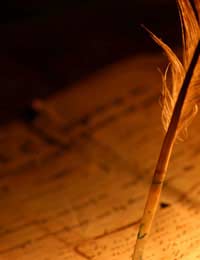 In the Middle Ages, rolls weren't food, although they were the meat and drink of legal records. They were essentially registers of court decisions, and came in many different types, with different uses. In genealogy they're another way - sometimes the main way - to not only get an insight into the life of the times, but also to trace back ancestors in a time when record keeping could be a very patchy art.
Patent Rolls and Genealogy
These came out of the Chancery court, covering a varying range of topics, from grants to individuals and others regarding the right to use land to keeping the peace and jail delivery, making them important in family history. Patent here means unsealed, and so available to all. For those looking into a family tree they can be found in published form in many larger libraries, collected in well over 60 volumes covering the period 1216-1587. You should be aware, however, that the old Palatines of Chester and Lancaster had their own Courts of Chancery, and so aren't in the main volumes.
Close Rolls and Family History
At the other end of the spectrum are the close or sealed rolls, which dealt with more personal legal records, such as will, deeds, leases and even changes of name, and so are important when looking into family history during the Middle Ages. Those from 1205-1903 are in the National Archives, and the Medieval period has mostly been published. These rolls are probably most useful for deeds of sale, which again are important to genealogy.
Genealogy and Fine Rolls
The fines here weren't imposed for wrongdoing, but as payment to receive privileges, such as inheriting land or a royal pardon. These date back further than any of the other rolls, or indeed most documents, going back to 1120, and running until 1649, so if you have ancestors with money or an aristocratic background, he'll be in here. An excellent resource for genealogy, and if anything can take you all the way back to just after the Norman Conquest, this can. Most of these rolls have been published.
Genealogy and the Charter Rolls
Charter rolls are similar to the patent rolls, except they deal solely with grants of land or privileges to organisations, rather than individuals, so they're not as useful in family history. Once again they're in the National Archives, although after 1517 they merged with the Patent rolls.
Hundreds Rolls
The Hundreds Rolls (a hundred was an area of land) detail official enquiries into the rights and properties of the Crown, and many other (privileged) people are named in individual documents, making them a great Middle Ages genealogy source if your family had wealth. Some are more useful than others even for the poor (for instance, the 1279 returns relating to properties in Bedfordshire, Buckinghamshire, Cambridgeshire, Huntingdonshire, Leicestershire, Oxfordshire Suffolk and Warwickshire list all the tenants of a property, right down to the serfs, making them very useful if you can trace back far enough in those areas).
Curia Regis Rolls and Your Ancestor
The Curia Regis Rolls detail the cases heard before the King's Bench and the Court of Common Pleas, and to establish the rights of the plaintiffs they contain many pedigrees - which means they're an invaluable source if your ancestor is listed, and one that can give a huge boost to a family tree in the Middle Ages. You can find them in the National Archives going from 1195-1242, and from 1273-1875.
Deeds
Many hundreds, even thousands of deeds can be found in local legal records collections. These are deeds of all kinds, from land transfer to bonds and money lending. Finding one that you need is good fortune, but being able to make good use of it is genealogy skill, as they are typically undated, even if the information they contain is like gold. If you come across one you can use, you might be well advised to take it to an expert for further guidance.
You might also like...