Genealogy and Baptismal Records From the Middle Ages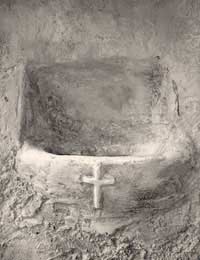 One of the vexing questions for genealogy is why more records weren't kept in the Middle Ages. After all, these days we know their value in legal terms (setting aside any genealogy thoughts). Although matters of property pertained more to the gentry (for whom there were records kept in areas), there were times legal matters of inheritance and paternity involved the poor, too - and they were baptised as well. The great absence of records is perplexing and frustrating for family history - but it does raise questions of its own.
Baptismal Records and Genealogy
There are some surviving baptismal records, although not in any organised form, making any genealogy search complex. The best-known are the ones found in church service books, but they can also be discovered in notes and entries in missals, Psalters and primers owned by families (a kind of forerunner of the listing you might find in a family Bible)- which can be useful if you have access to the material when tracing a family tree. Some are in archives, but it's quite possible that many more might be found in private hands or churches.
There's also a theory, worthy of a good book that during the Middle Ages baptisms were recorded by the Catholic Church, but were smuggled out of the country to the Vatican when Anglicism became the national religion.
It's a great idea, and rumours of their existence continue to circulate in the genealogical community - genealogy's version of a conspiracy theory. However, there's never been any real confirmation of their existence, and the chances of seeing them (if they exist) would be close to nil. According to the rumours, though, their value is very limited, as they contain no surnames or parental names (not very good for researching ancestors), and it's quite possible that they only listed the wealthier families, for whom legitimacy and inheritance were pressing issues, which won't affect family history for most of us. At some point, possibly, their existence might be proved. Until then, speculation runs rife.
How the Inquisitions Post Mortem Can Help Trace Your Ancestors
The Inquisitions Post Mortem aren't the Spanish Inquisitions of historical and Monty Python fame: instead they refer to the investigations of inheritance by a Crown official called the escheator. His job in the Middle Ages, following the death of anyone who held lands directly from the Crown, was to establish who inherited the land, or whether it reverted to the King, making his records important to genealogy.
Even if the Crown didn't take back the land, it still stood to make money. If the heir was under 21, when he came of age he had to be a fine, or fee, to take possession, so establishing the lineage was important, as, of course, was fixing the heir's birth date. To that end witnesses were called, often of far lesser standing than the nobility, and proofs of age were assembled - which offers excellent family history data.
Proofs of age weren't necessarily baptismal records, however. Many other attestations were acceptable - the idea was that you amassed as many as possible to prove a birth date. They could be the date of a first mass, the age of the person when someone else died or joined the Church - these dates being written into a calendar. Even the age of the person when a natural event like a flood or bad harvest occurred was one acceptable proof.
Both proofs and witness names can be important to the genealogy search. If you're researching the family history, then proofs of age add another link to the chain. If your ancestor was one of the witnesses, you've placed him within a concrete time frame, and have more information to add to your family tree.
There's an index of inquisitions kept at the National Archives, although many are held in local archives, so check first as you begin on the genealogy of the period. One series runs from 1235-1662, and there's a miscellaneous series from 1219-1422. However, as with other medieval documents, they may be difficult to read in the original, so be prepared to seek professional aid.
You might also like...