Using Family Photographs to Trace Your Family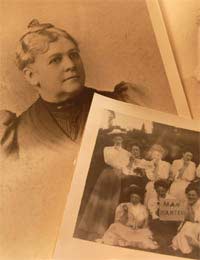 The meat and drink of genealogy might be names, dates and relationships, but there's more to it than that. Photographs can, quite literally, fill out the picture of a family history. They enrich the history of the family as you build it, and make your ancestors far more real as you compile the family tree.
Of course, you can only go back so far with photos – the technology wasn't widely available until the second half of the 19th century, and old pictures are invariably posed portraits. But these are your roots and should be displayed proudly in your genealogy.
The closer to the present, obviously, the greater the amount of family photos you'll be able to obtain, from photo albums or from relatives. They'll be snapshots and far more candid, often covering a wide range of people, not just fathers, mothers and grandparents, but also cousins, aunts and more.
Of course, there can be problems in identifying some people, especially with older pictures. That's where older relatives can be very useful. They might remember the person, or perhaps the scene and be able to put a name to the face.
Problems With Photographs and Genealogy
Older photographs, by virtue of age and quality, can often be in very poor condition, which doesn't help you with your genealogy. It can be hard to make out the face of that ancestor, let alone identify him and put him in the appropriate place on the family tree. Don't despair – many places offer photo restoration, which can put you back in proper touch with your roots.
The other big problem with older photos is where no one knows who the subject is. You're sure it's someone in the family, but who – and when? That's where a little knowledge can help reveal a lot.
The first type of photograph, for example, was the daguerreotype, which was in use until somewhere around 1870, to be replaced by the "cabinet card" style. Being able to identify these will offer a time frame for the family member and pinpoint the period in the family history. Often the back of the picture will have the photographer's name and address – they had studios – which gives you more information.
A knowledge of old styles of clothing and interior decoration, and of history in general, can help you further in narrowing down the time (genealogy, of course, is a lot of detective work, and piecing things together from small clues). With women, hair and dress styles, which changed regularly, can be important. Is there a portrait of Queen Victoria in the background? If so, how old does she look? From that you can approximate the period, for instance.
From these, you should be able to come up with at least an approximation of the generation. If it's a family portrait, how many children are there? Try to match it up with a generation from information you already have in your genealogy. You won't always be able to come up with a definitive answer for your family history, but genealogy can't always be an exact science.
No, it's not always ideal, and you might make mistakes. The more information you have about the photograph – which side of the family is it from, for a start, will help for the family tree. Likewise, the greater your knowledge of history, the morel likely you are to pinpoint these particular ancestors correctly. But genealogy is all about discovery, digging down into the roots of family history, and as such, photographs add to the thrill of it all, and can be a treasure trove that help bring your family – and your family history – alive.
You might also like...
i would like to know if our ancestry in bordeaux of renato anjoux tronqued born in bordeaux in 1819 is related to this town of el tronquedal in asturias by langreo and la tronqueda of areyns de mar of barcelona?
luke
- 17-Oct-18 @ 11:16 PM
My father's ancestor was a Charles Heath who came out to Australia as a convict. He was my g.g.grandfather (paternal). I have traced his family back to his father Charles Heath in London who was born in the late 1700s. I think I am right when I found his father John Heath? who married a Mary Charles, they had a son and called him Charles, presumable after his mother's side. Could Mary Charles have been of Hugenot origin? If I go further back I come across a Jane Tulipan which appears to be Mary Charles mother. Can anyone verify?
marj
- 20-Mar-18 @ 1:25 PM
tronqued was the surname as early as 1819 born in bordeaux is the only origin that we have but are they huguenots, basque, celts, germanic, wallonian, whatever it maybe the huguenots name list didnt have tronqued in the whole lists but had some pretty close...in fact, i found a city in oviedo asturias basque spaincalled el tronquedal
dino
- 4-Jul-17 @ 5:51 PM
My thomas orange married a phillis heymers in northumberland in 1707i am now stuck in my search. Rumour has it we are of frence descendent abd royal blood from my deceased grandfather. The only thomas orange baptism i can find is in westminster st margarets london. Can anyone point me right direction.Thank you
Nell
- 7-Aug-16 @ 9:19 AM
In researching my Pigmon family roots I am finding they are probably from Correze, Limousin, France.They apparently went to England for a time and some of the records I am finding are in Norfolk.Here is one from family search.org that I am particularly interested in as William and An could have been John Pigman's parents: William Pigman England, Marriages, 1538–1973 marriage: 09 Jan 1667 Hunstanton,? Norfolk,? England spouse: An Amond groom's name: William Pigman bride's name: An Amond marriage date: 09 Jan 1667 marriage place: Hunstanton, Norfolk, England indexing project (batch) number: I04529-7 system origin: England-EASy source film number: 1951636 My 6th great grandfather John Pigman or in French Jean Pigmon/Pimond was in Maryland by 1695 so it could be that the family fled France sometime before that and lived in Norfolk for a time.He was a cooper by trade but had a tobacco plantation in colonial Maryland. Do you have any Huguenot resources I could check to find him in Britain?
Curt
- 19-Sep-12 @ 9:25 PM