How To Find And Use The Main Genealogy Sources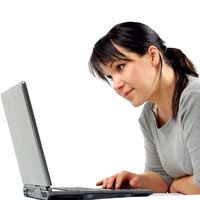 When you begin researching your family tree one of the first things you need to know is where to look for genealogy information. These days there are some excellent, readily available sources, both online and in person, that can give you facts and figures dating back generations to help build a picture of your family history.
Although these won't enable you to do all your genealogy searches, they do offer a good starting point, and can push you a good way along the path. Obviously you'll need to take a lot of detours along the way to find out family history details and background, which will require a lot more work, but if you have the places to begin, that's a great help.
Online Genealogy Sources
If you live in Scotland, you're very lucky. Scotland's People is an excellent one-stop first shop to track your Scottish ancestors. They offer birth, marriage and death records from 1855 onwards, as well as older banns, marriages, births and baptisms, as well as census records from 1841-1901, and wills and testaments from 1513-1901, which gives you a wonderful genealogy boost.
Although most of the Scottish material you'll need to start a genealogy search into your ancestors is available online, things such as emigration records can be found at the National Archives of Scotland, which can be a good place to go into greater depth.
Some of the searches are free, but others do cost a small fee. However, given what you can discover, it's worth the fee for the page views.
For England, Wales, the Isle of Man and the Channel Islands, census records can be seen at the National Archives - a place you'll visit often for genealogy. They're available online from a couple of different sources.
The chances are that you won't be investigating wills in the early days of your family history search. However, you'll need them in time, and all proved wills are available online from the National Archives
Another vital and useful place to begin looking into your family tree is with Family Search. They have British and Scottish census records, as well as births, marriages and deaths for Britain available, and free, although you should be aware that they're not always complete, something you'll come across often in genealogy. You should also know that these records are transcribed, and only as good as the volunteer transcriptions.
Apart from these official and semi-official places, Genuki is an excellent place to visit, showing plenty of channels you can follow in order to deepen your genealogy research.
Genealogy Sources To Consult In Person
Those in Britain researching family history will inevitably visit the Family Records Centre in London at some point. Although you can access census records online, they're physically available there, as are certificates of birth marriage and death, since civil registration began in 1937 (although if you know the dates, you can order certificate copies online from the General Records Office), making it a vital genealogy source.
Divorce records, as well as many military records of your ancestors, can be found at that other great place for family historians, the National Archives at Richmond.
People living in Ireland can find genealogy records at the National Archives in Dublin, which has family history data for both Eire and Northern Ireland. This is the most complete collection, but not total due to the destruction of many records in a fire. The Public Records Office of Northern Ireland in Belfast has court records and other items, but nothing you'll need in your initial searches.
You might also like...