Handfasting and Marriage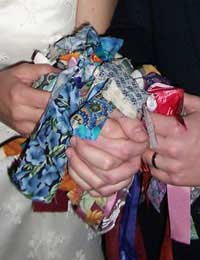 Over the years there has been a great deal of confusion regarding handfasting and marriage. It's become a ceremony adopted as marriage by modern pagans, and there are those who believe that when it was common, handfasting was not a marriage, but simply a trial marriage.
This is wrong. Handfasting was never a trial marriage. It was a betrothal, a promise of marriage. It was widely practiced in Scotland, and also in some parts of the North of England, even after the Protestant reformation of the Church – in Scotland known as the Kirk. But its roots are very much in medieval times.
Medieval Marriage
In medieval times, marriage was a vow made between two people. There didn't even have to be witnesses. The promise was made, all importantly, before God. It could either be in the present tense, or a vow to marry in the future. With that future vow, once the couple had enjoyed sexual intercourse, they were married. There was no need for banns or a priest's blessing on the union.
At the time most church marriages were done at the church door, not inside the church. These were performed by the priest and classed as "regular" marriages that would go in the parish register. The other kinds of marriages, although quite legal, were known as "irregular" or "clandestine," and so not recorded, making them impossible for a genealogist to discover.
There was no divorce at this time, although a marriage could be annulled if it was proved that the marriage was never legal for some reason, such as consanguinity. Things remained that way until divorce became possible under the Reformation.
Betrothal
Betrothal in older times was a far more serious business than modern engagement. It involved negotiating and exchanging contracts of marriage, and once, betrothed, there was no going back.
In Scotland and in the North of England, handfasting was the equivalent of betrothal. It involved, quite literally, the joining of hands of the couple that were becoming betrothed. A handfasting here meant that the couple would marry in the future. However, if they had sex following the handfasting they were then married, whether there had been a ceremony or not.
Post-Reformation
The Catholic Church reformed its marriage laws at the Council of Trent, and clandestine marriage was no longer acceptable. All marriages had to be performed by a priest to be legal and accepted.
That wasn't the case in Scotland, though, which had already undergone its Protestant Reformation. As long as there was mutual consent, either in the present or for the future, and it was followed by the couple having sexual intercourse, they were married. These marriages were not only recognised by the Kirk but also under Scots civil law.
But the Kirk did demand that these couples also undergo a formal marriage at the kirk and also receive some punishment for not marrying the official way. Things did change over time, and future contracts were no longer viewed as marriage by the Kirk by the 18th century.
The irony is that civil law in Scotland did still recognise these clandestine marriages, and would continue to do so into the 20th century, when laws finally changed.
So handfasting could become marriage if followed by sexual intercourse, but in technical terms at least, it wasn't the equivalent of marriage as seen in modern terms, but more like engagement.
You might also like...